THE ROYALTY FREE MUSIC STORY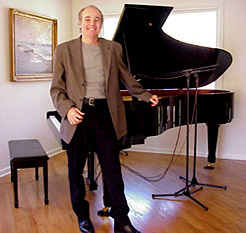 Gary Lamb and his music hold a unique position in the history of 20th Century Music as Gary is one of the only artists in history to have his music chart in the Top 10 of the prestigious Billboard Magazine charts on his own independent recording label! He has twice achieved Top 10 status and has charted 4 times on the instrumental music charts entirley on his own. Because Gary Lamb has maintained 100% of all copyrights and publishing rights for his compositions, he is able to offer his original and internationally acclaimed music on a "royalty free" basis to all video, film, television and multimedia developers both professional and private.
The purchaser of this specially packaged collection may use and re-use Gary's music on many different projects. This is not your basic "library music" but some of the most compelling instrumental music available anywhere. Each CD contains 10 unique and interesting styles that will surely enhance and contribute to the overall value of whatever project they are applied to. The package includes a royalty free waiver giving the owner the unlimited right to use the music. The only terms are that Gary Lamb be given credit for the music wherever possible and that the music is not re-sold as an audio recording. The re-selling of videos, CD ROMs, films, etc. with Gary Lamb's music on them is perfectly acceptable with the above mentioned credit.
Gary Lamb is also available to write custom music for any project including film, documentaries, CD-ROM, television, advertising and corporate ID (see credits).
This web site has information and audio clips about this unique product idea as well as many different ordering options for your convenience. If you have any questions, please Email us at the address below:
Thank you!